Man Cave Couch
It goes without saying that every mancave has a staple. For some, it might be the TV; for others, it might be the pool table, but for many, it's the seating. No matter what else is in your man cave, you need a couch, sectional, or chair that's going to provide you the maximum relaxation – after all, that's what the man cave is for. In this post, we'll be running through seating options and the benefits of each one so that you'll be able to make an educated selection when the time finally comes for you to put your man cave together.
Man Cave Sofa
The old reliable of the seating world is undoubtedly the classic sofa. You get just the right amount of space for both yourself and friends, a comfortable social space, and not to mention probably a low price since a standard couch is a go-to option in high demand. As an altogether piece, you won't need to do any moving or modifying, making a sofa the simplest of options as well as the most dependable.
The simplicity of a sofa may make you take a second guess since you probably want your man cave to have all the stops. Going for a more modern-style sofa can hook you up with couches that have things like memory foam, charging ports, and remote-controlled reclining options, amongst other things. Simple contemporary sofas, however, are the perfect option if you don't need all the bells and whistles but are still looking for a couch with style, sturdiness, and flair. When it all comes down to it, though, your sofa is where you can crash after a long day, so what matters most is that it's ultimately comfortable to you.
Man Cave Sectional Sofa
A sectional sofa, as you might expect, is a sofa that comes in sections. You can put all these sections together to make one big sofa or take away parts as needed when only a small space is in demand. Most sectional sofas come in L shapes (or Vs), but there are also sectional sofas that assemble into semi-circles. Choosing a sofa design depends on your preferences, of course.
Sectional sofas are a fantastic option for your man cave not only because you can rearrange the sections as needed but because they're massive space savers. When put together, you've got the seating for a crowd, but when you don't want your room to look super packed, you can remove the sections you don't need.
Sectionals are also incredibly dependable. Because of the design, the sections are often exposed to the elements, so manufacturers use high-quality upholstery to reduce wear and tear. You'll probably be moving your sectional sofa around a bit if you choose to get one, but you can rest assured that the piece of furniture will be very durable.
Man Cave Movie Theater Seating
Not everyone has a house big enough for a home theater (if you do, lucky you), but that doesn't mean you can't set your man cave up with a few movie theater-style seats. You can have only one for yourself or a few for when friends come over, and everyone will have their own space while still having fantastic cushioning and plenty of legroom. By adding that thrilling movie theater feel, your man cave will become even more exciting than it already is.
Because this is your man cave, you get to call the shots, and whatever accessories you want to enhance your movie theater chair experience, you can have. While most of these types of seats come with things like cupholders and adjustable armrests already, there is so much more you can add. Adjustable tablet holders cater to the tech-savvy. Reading lights and neck pillows provide the perfect environment to crack open a good book. Swivel tray tables with cigar hosts and wine glass caddies can set the stage for a relaxing evening in your very own movie theater chair.
Couchbed
The couch-bed, also called the pullout, the sleeper, or the futon, is another timeless classic that adds relaxation to your self-made space. Because couch-beds are precisely that, couches that turn into beds, they're made with highly comfortable materials, making them pleasing to sit on and sleep on alike. These are also some of the more durable pieces since manufacturers have in mind that people will be sleeping on them, so the parts will need to be comfortable while also supporting all your bodyweight.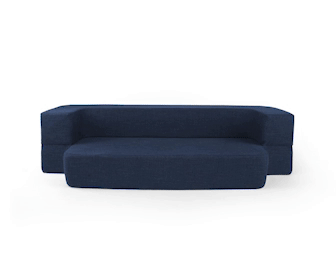 You might be thinking that you probably won't be sleeping in your man cave, so why bother? A couch-bed might be your savior when you least expect it, not just for you but for anyone coming to you in a time of need. Even if it isn't an emergency, you might find yourself wanting to take a short nap, and if you aren't feeling so inclined to make your way to your bedroom, you can quickly transform your couch and drift off to sleep.
Media Lounge Sofa
Media lounge sofas are the perfect all-in-one sofa. These sofas mimic the style of a bed, but with all the strength and design of a couch. You get maximum space, maximum coziness, and the opportunity to use the sofa as a place to sleep as well.
These are the kinds of sofas that you look at and think they must be made for royalty. Some even have cupholders and other user-friendly features to show you precisely why it's called a lounge sofa. You can set yourself up with a bigger sofa that lets everyone can hop on, or you can get smaller-type media lounge sofas for cuddling up all on your own.
At the end of the day, choosing the perfect sofa for your man cave all depends on what you want. If you only need somewhere to sit, you might not need more than a traditional sofa, but if you want a show-stopping man cave, nothing is stopping you from buying a couch with all the works. Your man cave is your place to relax, so make it yours.