Every guy dreams of that perfect man cave. That place in the house that is all theirs. A place they can have to themselves and watch the game. Or have their buddies over to hang out while making them all jealous of your luscious in-home hideaway. Everyone wants one. But what should a man cave include?
The main thing to remember when creating a kickass man cave is to make it completely unique to you. There is no standard man cave blueprint to follow. This is essentially your playground. Make it your own. Even with this guide, there are so many options to choose from. This is meant to give you some ideas of what a lot of guys wish they had. But creating your own personal fortress of solitude is more about personal preference than anything else. And it is about as fun as it gets as an adult. So enjoy the ride!
Man Cave TV
The most important element of the man cave is the TV. Getting the TV wrong can completely ruin the rest of the man cave. It will be the center of the entire space. It is what your buddies will flock to when the game is on. There are really only a couple of roads to go down here, and then multiple choices once you figure out which way you want to go.
Flat Screen TV
Don't listen to what she says here, guys, because size absolutely DOES matter. You do not want to get a 32 inch flat screen TV and have to hand out binoculars to watch the game at your house. You need to go big here.
There seems to be new advancements in TVs that come out every year. My advice would be to go with what was the new thing in TVs last year because they are going to be a million times cheaper than whatever is new this year. You can always upgrade next year when that "new technology" is old news and the price plummets like last year's model did.
Projection TV
Now I used to think of this like the old projectors at school that would skip and get blurry and the sound would be horrific. Technology has advanced so much that projector TVs are absolutely amazing nowadays.
Surround Sound
Whatever TV you decide to go with, one thing is for sure, you need a sick surround sound setup. What good is having an amazing TV if you don't have the sound to go with it. You want to feel like you're so close to the action that you can hear the quarterback in the huddle. Or the catcher talking to the ump before next pitch. Or Herb Dean telling the fighters to quit grabbing the fence. Or like a light saber just whizzed by your head. You want to be immersed in the action. The right surround sound system can do that for you.
Comfortable Seating
Another element that is extremely important is having the right seating for your man cave. Sure, you want to feel like you're so close to the action that you actually feel like you're at the game. But you don't want to feel like you're sitting on the stadium benches. Let's face it, those are not comfy for an extended period of time. So you need to really consider you r seating options when setting up your man cave the right way.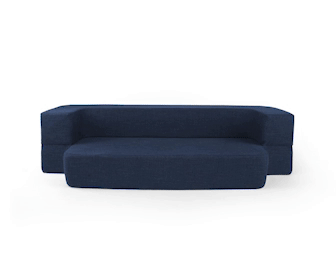 Recliner
The old trusted recliner. While this may be a vision of what a man was supposed to look like in the 80s and 90s, it still can serve a purpose. Think of these like the captain's seat. This is where you will be spending a good majority of your time. So make sure your tush is getting what it needs for the game.
Giant Sectional
Having a huge sectional couch is always a great option for a man cave. It allows for multiple people to enjoy the action at the same time. And it can also double as a bed for when your buddies might be over served. Or if you happen to find yourself in the doghouse. So make sure you get a comfortable one!
Home Theater Seating
This has become a very popular option in today's man caves. There are some excellent home theater seats that provide so much comfort and convenience. What's not to love when you combine the comfort of the big movie theater seats with the convenience of being in your man cave?
Lovesac
This one might be a little controversial, but I defy any of you to go into a Lovesac store, sit in one of those giant clouds of puffy goodness, and not just want to take it home and stick right in front of your TV and forget the comfort of anyone else who may frequent your man cave.
Man Cave Bar
One thing that every man cave must have is some kind of a bar setup. Whether it is a built-in bar or a portable bar that can be moved around, there must be some sort of a bar in the man cave.
But what is right for you?
Built-in Bar
The benefits of having a built-in bar in your man cave are that you can pretty much build what you want. It can be as big as you want and set up to your personal taste. If you want to emulate a sports bar feel, you can certainly do that. If you want a luxurious ski resort lodge type of bar…build it. There is no limit to what you can have created with a built-in bar.
The major downside to the built-in bar option is that once you have it in place, you're stuck with it. If you want to add more cool stuff to your space down the road, the built-in bar might be a hinderance. It's more of a project to redo it once it's in place than the alternative.
Portable Bar
There are so many portable bar options out there that it is almost impossible not to find something that suits your individual taste and needs.
Another benefit of having a portable bar is that it is portable. It can be moved. So, if you find that it's in the way later on when you want to add a kickass foosball table, all you have to do is move it to another section of your space. It allows for much more flexibility than the alternative.
Barstools
One thing a lot of men don't think about when crafting their man cave bar is their barstools. This actually might be one of the biggest sleepers when it comes to how much of a factor it plays into the man cave overall. Not many people talk about them at the time of the draft, but they can make such a big impact and make or break your entire bar setup.
You need to look for comfort and quality here. And do not forget about choosing something unique here as well. I know there are a lot of cool options when it comes to barstools for the man cave, but you are going to want something that you can actually sit on without needing an ass donut or giving your legs pins and needles.
Sports Memorabilia
Another man cave essential is sports memorabilia. This is probably my favorite part of the man cave and the one thing that I constantly created in my mind's eye when dreaming up my man cave before I could make it a reality.
Most men who are interested in man caves are also into sports. They kind of go hand in hand. And having unique sports memorabilia in your man cave can set you apart and really make your man cave a source of envy to all who enter.
My personal goal for my man cave was to create a personalized sports museum of my favorite teams, players, and athletes. This is where it gets really fun. You can find so many cool things to cater to your own personal taste as a sports fac.
Autographed Memorabilia
One of the things that can really set your man cave apart from all others is having autographed sports memorabilia.
Having a display of autographed sports stuff is something that most men dream of. You want to make everyone who enters your man cave wide eyes and feel like they should have paid admission to enter the shrine they are gawking at.
While these items can get pretty expensive, there really is no better addition to make your space completely unique than having autographed sports stuff covering every available inch.
One thing to remember when setting up your exhibit is display cases. The last thing you want is to have your autographed Bobby Bowden picture nailed up to the wall without a frame. There are a ton of display cases and frames that cater to this type of memorabilia. Make sure you plan ahead!
Unique Team Collectables
Another awesome way to display your passion for your team is having unique collectables. Much like the autographed memorabilia, this can be fun to collect and display. There are just endless options.
You can have old seats from your teams renovated stadium.
Or an actual base that was used in a game.
Or a display of old tickets to games you might have gone to in a frame.
Or even pictures of you and your favorite athletes when you met them which is really the autograph of today.
There are just so many options when it comes to creating your own sports collector's paradise.
Games and Game Tables
Another must-have in a truly badass man cave is some sort of game or game table. Again, there are so many options to choose from and a lot of it comes down to preference.
Pool Table
One of the all-time staples that is synonymously linked to the man cave is the pool table. This is probably the one game table that most people think of when they think of a man cave. A bunch of guys, huddled around a pool table, holding their pool cues and sipping on bottles of beer.
There are a ton of options when it comes to pool tables. This is another one of those things where you don't want to skimp on quality. The last thing you need is to have to use one of your autographed books to prop up one side of your lopsided pool table to even it out. Or to have the cheap felt fray and create obstacles on the table like divots on a putting green that you have to shoot around.
Any of the above scenarios is grounds for your boys incessantly mocking and busting your balls.
So, if you're going to spring for a man cave pool table, don't be stingy. Get a legit table that you can be proud of showing off.
Dart Board
Another one of the staples of a man cave is the dart board. You have a few options with this as well and it really depends on preference.
Bristle Dart Boards
This is the most common type of dart board there is. As you can surmise from the name, it is made from a ton of tiny little bristles that "catch" the darts as they come in. The benefit to bristle dart boards is that it is basically maintenance free. The darts don't leave holes like with cork or wooden dart boards since the bristles replace the holes once the dart is removed. This is actually the dart board that is used in most tournament and league play.
Electronic Dart Boards
There are a few different types of electronic dart boards, but these have seen a giant spike in popularity. These are the types of dart boards that you often see in bars nowadays, but they don't all have to be the giant machines that you see and play for a buck a game.
There are numerous benefits to electronic dart boards. Again, they are pretty much maintenance free without having to be cleaned or washed often. There are several holes that the soft tip darts enter when thrown (accurately thrown, that is!).
The other giant benefit to electronic dart boards is that they keep their own score. When you're having your buddies over for some drinks and darts the last thing you want to do is math!
Other Dart Boards
There are other types of dart boards that you could consider, but methinks that if you added them to your man cave you may get your "man card" revoked on the spot.
Magnetic dart boards are something Santa gives your 5-year-old. Don't put on in your man cave. Ever.
Wooden dart boards can be nice, but they require too much maintenance and are honestly not as effective as bristle or electronic dart boards. Same thing goes for the cork dart boards as well.
If you're looking to add a dart board to your man cave, you should definitely think about going with a bristle or an electronic dart board depending on your preference and budget.
Foosball Table
This is one of the game tables that has started to make a little bit of a comeback in popularity. The foosball table is one of the most fun games to play and a great addition to any man cave. If you decide to go with a foosball table, there are a few things you need to be aware of.
Please don't skimp and get a table that's not level. There's nothing more frustrating than having to stick your hand onto the field of play because the ball keeps gravitating towards one of the corners.
Another thing that you want to make sure that you have is some WD40 for the bars that your players are on. You want a nice smooth glide when you play. You don't want to have to lean in and put all your weight into the handles to move your players.
Air Hockey Table
One of the most fun games to play, and even watch, is air hockey. There's not much better than a group of friends laughing at the ineptitude and slow reaction time of one of your buddies when trying to play air hockey.
This is one of those games that the whole family would enjoy as well. You don't necessarily have to lock the rest of the family out of the man cave if you don't want. They might enjoy a quick match every now and then!
Pinball Machine
Every guy likes pinball. There's no denying that.
And the cool thing about having a pinball machine is that you can get one that is unique to your taste and style. There are machines out there that are themed to just about anything.
The real challenge is going to be stopping at just one pinball machine. Because once that flood gate is opened, you are going to want more.
Arcade Games
Remember going to the arcade at the mall when you were younger and your mother making you leave because she was done. You could have stayed there all day.
Well now you can with your own little arcade man cave.
There are so many good arcade style games that you can buy now and have delivered to your home.
Bring back the days of tokens and three letter acronyms for high scores!
Mega Touch
Now this might be something that is just for me, but I worked at a few bars back in the day that had a Mega Touch machine and I spent entirely too much money on that damn thing.
Now they have updated Mega Touch machines with better graphics and cooler games. This is a great addition to the end of your man cave bar.
Shuffleboard Bowling
This is another one that I absolutely love. This is like having a bowling alley in your man cave without completely monopolizing the space.
This is played with a little disc that rolls over where the pins would be set up. There are sensors that pick up where the disc goes, and then the pins fall accordingly. This game is incredibly addictive and is an outstanding option for your man cave.
Poker Table
Poker night is another thing that is synonymous with man caves. There's nothing better than having the boys over for a night of cards, drinks, and laughs.
The right poker table can make the experience that much better. There are so many ways you can go with poker tables. There are the long tables that emulate the poker tables at the casinos. Then there are the smaller, more intimate round tables. Each one has their own place. The longer table is great for more players. They often fold up for storage as well. The smaller round poker tables are more permanent and stay in one spot. It really depends on your preference, what you are going to use the table for, and how often you plan on using it.
Food and Snacks
This is the proverbial cherry on the sundae. Having some snack machines in your man cave can make it go from good to out of this stratosphere. But you want the right machines to really set you apart.
Popcorn Machine
There is no better addition to the man cave than the right popcorn machine. I have so much experience in this realm that it's almost embarrassing. I am a popcorn connoisseur. I love the stuff. And I have gone through my share of popcorn machines. So I know exactly what to look for when you are looking to get one for your man cave. Check out this post I wrote about the things to look for in a popcorn machine.
Nacho Cheese Dispenser
Is there anything better or more manly than nachos?
While having homemade nachos and dips are great, and can be a phenomenal part of any gathering, having your own nacho cheese dispenser will place you at the top of the man cave podium with your buddies. The ability to pour that golden liquid nectar of the Gods on whenever you want is unmatched and will separate your man cave from all the other pretenders, cementing it as the place to watch the game.
Pizza Oven
Having your own pizza oven is next level. There are actually countertop pizza ovens that you can put in your man cave that will give you the ability to whip up some pie without ever having to leave the man cave.
Again…next level.
Deep Fryer
Very few things go together like sports and fried foods. It's what dreams are made of. Having a solid fryer in your man cave so that you can fry up a batch of wings while still being able to watch the game is the type of things that legends are made of.
And there are so many uses for it. You can go from wings to mozzarella sticks to pizza logs to fried ravioli to fried dough. The possibilities are endless.
The key to a good fryer is the size, though. You don't want a dinky one that won't even fry a dozen wings. You want a restaurant style commercial fryer that can handle anything you throw at it.
Snow Cone or Slushie Machine
Is there anything sexier at a bar than a slushie machine repeatedly swirling those fluorescent colors that bring you back to your childhood days when you would take bottles back to the store just to be able to get yourself a Slush Puppie. Maybe that was just me. But still, having your own slushie machine is an amzing addition.
There are also snow cone and shaved ice machines that mimic the ones you see at festivals. This is another option that will put your man cave in the Hall of Fame.
Unique Collectables
These are the "other" things that set your man cave apart. The personal touches that mean something to you.
Maybe you are a closet Harry Potter fan and want a sorting hat on display.
Or maybe you're into Star Wars and want a Boba Fett figurine in the corner.
Is Batman your thing? Nothing wrong with having a model Batmobile showing off your love for the Caped Crusader.
There are so many unique ways to decorate your man cave. These collectables are the final touches that will separate your man cave from anything else and truly make it your own.